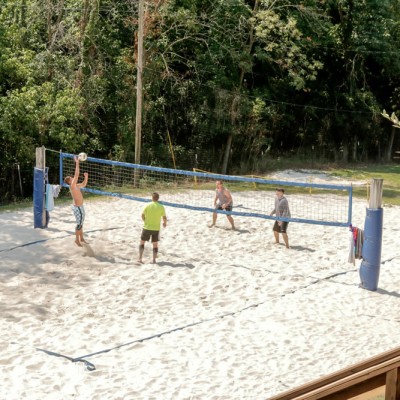 Whether you're a novice or a pro, you'll love our outdoor sand volleyball leagues organized by Dulles Beach Volleyball! Join us for our spring, summer and fall seasons for juniors and adults. We accommodate all levels of play in our sixes, fours, doubles, co-ed and mens leagues. In addition to our popular leagues, we also offer sand volleyball training for juniors. Our three deep-sand volleyball courts are ranked among the best courts on the East Coast, and are equipped with lights – allowing the fun to continue into the night!  Check out our spring, summer and fall leagues!
Court Rental Procedures
To check court availability: Contact us at 703-404-8800 at least one-week in advance.
Cost: $50/hour. Please check in at the Pro Shop upon arrival to provide payment.
Cancellations: Contact us at 703-404-8800 to provide notice of cancellation for any reason, including inclement weather.
Parking: The volleyball parking lot is located in the Baronwood Lot (Dulles Design Center), located on the left side, just before the miniature golf course.
Please note: Alcoholic beverages are prohibited.